Las Vegas, Monday April 18, 2005: It is sometimes remarkable that a manufacturer's R&D department does not work more closely with its marketing staff. While the former is diligently developing new advances in audio mixing and editing hardware, their definition of "useful" and "appropriate" needs to be in synchronism with current and future needs of the targeted customer base. All too often this dialog is haphazard and, occasionally, non-existent. But there at least three companies exhibiting at this year's NAB2005 Convention here in Las Vegas who give every appearance of offering innovations that are refreshingly on-target.
Consider, for example, Solid State Logic (N3211), which is showing the new AWSomation option for its popular AWS 900 Analogue Workstation System. Launched a year ago, AWS 900 integrates a 5.1-capable analog console with a multifunction DAW controller that provides direct access to primary workstation mixing, editing and automation parameters, plus control of plug-in settings. That the firm reportedly has sold in excess of 100 such systems, many to the post production community, speaks well of its appropriate design concept.

But there is more. What if a post facility or broadcaster needs to make adjustments during a final print-mastering stage using a number of premixed 5.1-channel DME stems, for example, and maybe apply additional dynamics control or equalization? These will not be changes made within the attached DAW, but rather a downstream mixing section. If we can scan and memorize these level changes plus dynamics moves, they will be available for update and change during subsequent mix passes.
Which is exactly what the new AWSomation option provides. Based on SSL's popular G and K Series Ultimation automation systems, the new offering features dynamic fader and cut automation, using MIDI timecode as a positional reference and MIDI machine control for commanding locate functions on the companion digital audio workstation. Usefully, all automation data can be stored and retrieved within the DAW as MIDI System Exclusive data. A very handy Join Function allows mix automation settings to be developed in the middle of an audio cue and then the data written from a selected in-point - the exact start of a scene transition, for example - at the touch of a button.
AWS 900 is distributed in the US exclusively through Guitar Center and GC Pro; it is sold directly by SSL to its core client base and broadcast clientele. Pictured above right in SSL's NAB SSL booth: David Angress, Guitar Center Executive VP; Colin Pringle, SSL Managing Director, and Rick Plushner, SSL President North America.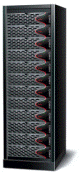 Another leading console manufacturer has also looked into its crystal ball and realized that storing and transferring audio material within a post or broadcast facility bring its own set of design considerations. Euphonix (N3606) has developed a novel Network Server Topology that is based on a robust central storage device configured for the specific demands of audio data. Servers designed to handle digitized video material normally are configured to work with large, continuous files. Audio material, Euphonix realized, is very different - a post project may comprise several thousand short-duration audio elements that need to be located and streamed from storage across a large number of data drives.
Developed in conjunction with SAN Solutions, the new server system being demonstrated by Euphonix in conjunction with its new System 5-MC Integrated DAW Audio Mixing System is based on a highly robust Hitachi Data Systems Thunder 9500V series array, pictured right, that has been configured specifically to provide a shared storage environment optimized for the high-speed delivery of audio files, with full asset protection necessary to safeguard the integrity of the stored material.


And not to be outdone, Harrison by GLW (N2418) introduced the remarkable Trion Digital Production/Broadcast Console, which fairly bristles with carefully developed user-friendly features. Normally, adjustment of channel parameters - EQ, level, pan, aux sends, routing, etc. - occurs at an array of shared, centrally located controls. Which can be problematic if the operator is located away from that central area. Instead, Trion provides access via conventional vertical-arranged rows of adjustment knobs or - and here's the neat touch - across all 80 controls per eight-channel input block. The initiative knob-per-function control is available anywhere across the entire control surface. A unique 20-second PreView Waveform Display of any each channel source is useful for monitoring the imminent arrival of replayed cues - as well as identifying level anomalies and other potential upsets. A choice of snapshot or timecode-based dynamic automation is available for, respectively, live broadcast and post applications.
A couple of other useful creative tools: a SuperLooper function that enables a 10-second segment to be looped continuously though a channel while levels, EQ and other parameters are being adjusted (useful if the talent is called away suddenly during a mike check, for example); and a sophisticated PFL/clean-feed assign function that automatically sets up conference calls between production staff and remote talent that need to discuss the upcoming segment via headphone feeds, for example, and then automatically hear full-level program output as their channel level is raised from the PFL position. (The firm is also working on a fully integrated audio-follows-video function that will enable pre-assigned cross fade profiles to be initiated between channel sources upon receipt of externals commands from a vision switcher.)
>>SSL AWSomation Option >>Euphonix Network Server Solution >>Trion Digital Production Console