L-Acoustics, Lake Technology and Yamaha hardware
for heart of renovated sound reinforcement system
Written by Mel Lambert in September 2004
Unveiled in July, 1922, with the audience seated on simple wooden benches placed on the natural hillsides of Bolton Canyon, the Hollywood Bowl soon became famous for presenting the world's greatest musicians – ranging from The Beatles, Frank Sinatra and Barbra Streisand, thru jazz, ballet and opera, to philharmonic music – while striving for excellence that has remained a constant goal of this Los Angeles cultural landmark. One of the largest natural amphitheaters in the world, the Hollywood Bowl has been the summer home of the Los Angeles Philharmonic since its official opening and, in 1991, to the Hollywood Bowl Orchestra.
With a seating capacity of 17,500 within an amphitheater that extends some 470 feet from an acoustical shell, the Hollywood Bowl has posed a myriad of creative challenges. The moneyed front-row patrons come for the intimacy and natural sound of a classical concert and are often dismissive of PA systems. But the remainder of the audience comes for not only the music but the wonderful ambiance. And let's not forget that the venue also handles jazz, opera and rock music, as well as leased events. And on-stage musicians have often criticized previous shell designs for their poor acoustics.
Since 1922, through various fads and fashions, acousticians have tried different shell designs. The latest offering is the fruit of several years' careful deliberation by a design committee under the direction of the County of Los Angeles and LA Philharmonic Association, and funded by an $18 million LA County ballot proposition. Hodgetts+Fung Design and Gruen Associates co-directed the complex project, which included the demolition of all existing strictures and the construction of a new shell and stage area. Fisher Dachs Associates coordinated theater planning and design, while Jaffe Holden Acoustics oversaw acoustic design. Structural engineers were Miyamoto International, working with Gotama Building Engineers, who handled mechanical, electrical and plumbing. The team had just nine months to complete demolition and construction, between the end of the 2003 season and June's summer season.
A set of adjustable reflectors have been fabricated above the orchestra on a 90- by 60-foot elliptical structure, which also supports an improved lighting rig. Motorized removable side sections will also accommodate rock and roll trusses for leased events. The Acoustic Canopy varies in height from 28 feet upstage to 32 feet downstage, and is set at a 10-degree angle. Overall dimensions of the new, enlarged proscenium are 111 feet wide by 53 feet tall.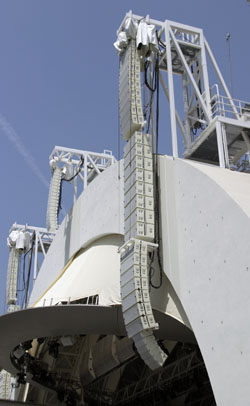 The new sound system (pictired right) features L-Acoustics V-DOSC/dV-DOSC line-array cabinets powered by L-Acoustics and Lab.Gruppen power amplifiers, under the control of user-programmable Contour systems from Lake Acoustics. Sound mixing duties are covered by fully assignable Yamaha digital consoles at front-of-house and stage-monitor positions.
According to Paul Freudenberg, L-Acoustics US' Sales & Marketing Director, "During the initial design phase, two things presented themselves. The first was that the throw distance was 485 feet from the stage. Sound technicians at the Bowl were determined to not use delay towers, which is one of the main reasons that V-DOSC was chosen. Elevation at the rear of the Bowl is roughly 120 feet above stage level, and the maximum trim height available on the newly constructed sound towers could not exceed 72 feet. As a result, the major concerns would be to have enough elements in the arrays to adequately cover this throw distance, and to localize sound to the on-stage performers. That realization prompted a break from traditional line-array thinking towards a hybrid design."
The initial concept was resolved while the venue was still under reconstruction. "It was clear that a continuous line source was not going to be helpful for this application," recalls Bernie Broderick, L-Acoustics US' Director of Technical Services, "and that the main arrays would have to be split into upper and lower sections. A continuous column would have limited each array to 16 V-DOSC enclosures. But, given the 485 -foot throw plus a desire to [eliminate] house delays, 16 elements would be insufficient. Since our design called for two arrays and two bumpers per side, there would be enough flexibility with rigging to cover the audience area without limitations." The final main array design called for 18 three-way V-DOSC plus six two-way dV-DOSC cabinets per side.
The upper array consists of 10 V-DOSC elements, trimmed out to 65 feet, to cover the back of the bowl and down to 32 feet behind the mix position. "Because of the transition between upper and lower arrays," Broderick continues, "it was important to move this [location] away from the mix position and keep the engineer in the path of a complete array." Angles used between elements in the upper array were extremely tight: between 0.25 and 0.75 degrees.
The lower array consists of eight V-DOSC and six dV-DOS elements, trimmed at 40 feet. "This put the lowest dV-DOSC element roughly 22 feet above the audience," Broderick says, "which was far better than the previous height of 53 feet." The lower array transitions from the upper array starting 32 feet behind mix position and continues down to 32 feet in front of the stage. As Broderick points out: "32 feet is close enough for the mains, while stage and lip fill could cover from that point forward. And this layout further helps lower the image to the stage."
Arraying the V-DOSC elements left a large gap between the upper and lower elements. "This gap provided the perfect solution for hanging our SB218 Subwoofer between the two arrays," Freudenberg says. "By putting the subs in the middle and using the X-tension preset in the V-DOSC library" – which runs the same bandwidth for both the V-DOSC's low-end section and the SB218 below 200 Hz – "it was possible to get some very usable low-frequency control that simply would not be attainable in any other arrangement."
"Basically, the upper and lower V-DOSC arrays are discrete in their coverage from 200 Hz and above," Broderick explains. "From 200 Hz and below, it is a 24-element line array extending LF pattern control well below 70 Hz. This not only helped to project the needed bass energy over the long throw distance, but also aided in keeping the energy directly onto the audience." The Hollywood Bowl is located in a noise sensitive residential area, and any reduction in spilt noise is greatly appreciated by immediate neighbors. "Another benefit to this technique was that the subs and V-DOSC project from the same point in space on either side of the stage," says Broderick - meaning that time alignment between the two would be consistent throughout the venue.
The center cluster is used optionally for soloists and is covered by an array of 17 dV-DOSC plus three 112XT enclosures. "Each two dV-DOSCs were set at zero degrees," Broderick recalls, "and then an angle placed between each group of two. What this did was to essentially create the mid/hi section of a V-DOSC enclosure, which gave the arrays a better chance at throwing 450 feet."
In addition, three 112XT enclosures suspended from the Acoustic Canopy provide sound coverage for the box seats at the front of the stage, and carry the same program material as the center cluster. Stage lip speakers comprise three L-Acoustics MTD108a enclosures. The entire rig is powered by close to 250 kW of L-Acoustics/Lab.Gruppen LA48a amplifiers.


For enhanced flexibility the current sound system is leased, rather than purchased. "We need that flexibility," comments Fred Vogler (pictured left), The Hollywood Bowl's Sound Designer, "because with so many variables it will take some time for us to determine the best mixing parameters for orchestral and other musical genres, as well as the final location for the loudspeaker array." Currently, all V-DOSC and dV-DOSC cabinets are suspended from towers using 12, one-ton and six, two-ton chain hoists.
For front-of-house mixing the Bowl's Audio-Video Sound Department selected a Yamaha PM1D Digital Console, equipped with 192 signal paths and 96 mix busses, and a companion 40-channel Yamaha DM2000 Console used primarily for string sections during classical concerts, plus a second PM1D for on-stage monitoring. DSP Engines for all three consoles are located in an air-conditioned room stage left, and connect to their respective control surfaces via a single umbilical. (A 68-pin cable plus two Ethernet ports for the PM1Ds.) Total recall of all system settings is featured, plus off-line programmability, central control and graphic parameter readout. Up to 1,000 scene memories can be stored in non-volatile memory. In the event of a control surface disconnect or power failure, the system will continue to pass audio. Outboard systems at the FOH position include Lexicon 480L and 300L Digital Reverbs, Eventide Orville and 2016 Effects Processors, Millennia Media plus Avalon EQ and dynamics units.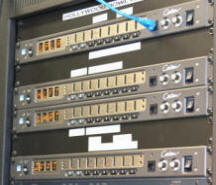 All system equalization, crossovers, limiting, delay and DSP is handled by Lake Technology Contour Pro 26D Digital Loudspeaker Processors (pictured right) that can be controlled via a wireless connection and a tablet PC. "One Lake Contour provides three-way [high/mid/low] control of the 10 V-DOSC cabinets located in the upper section of the left and right arrays," explains Lake Technology's Executive VP Bruce Jackson, who also acted as consultant on the Hollywood Bowl design project. A second Pro 26D handles LMF frequency control of a lower eight V-DOSC boxes on each side, while a third controls subwoofer systems. The four dV-DOSC front-fill elements below the left and right main arrays are controlled by a fourth Pro 26D.
"I'm pretty tickled by our experiences with the Contours and V-DOSC," Vogler says. "We already have a really great mic collection and lots of great mic pre-amps, and these are two more really great tools." Because sound from the main stereo speaker system is so coherent, Vogler considers, "to date has not been necessary to implement the center array."
A pair of Contours optimize a single Sound Image G2 two-way cabinet located each side of the amphitheater to provide infill for two audience areas that are shadowed from the main arrays by large-screen video towers. "We prefer to use a single Lake Contour per side than to attempt to drive one of the G2 boxes from across the entire width of the 18,000-seat venue using a single Contour," Vogler says."
"We have set up a 'pop' and an orchestral setting for the Contours," Vogler continues, noting the ease with which the audio system can be optimized for different types of music. Citing experience of the Digital Loudspeaker Processors during last season's Bowl program, Vogler says that he is more comfortable making changes on the fly with Contour. "I just walk around with the wireless tablet," he confides. Prior to the start of the 2004 season all Contours were upgraded to fully digital I/O connecting directly to the digital mixing engines.
In addition, Vogler received an array of DPA Microphones, including four Model 4026 Wide Cardioids and four Model 4036 Omnidirectionals. "These miniature mics are easy to hide on stage," he says, "yet sound sensational. I use the omnis for my primary mic array, and also on piano – it's the best sounding piano solo mic I've ever come across." Also available for the new Hollywood Bowl season is a Lake Technology Huron Digital Audio Convolution Workstation, which incorporates "a number of sensational reverb algorithms," Vogler offers, "including programs that add seamless ambiance to my main microphone array."
"The degree of control available from the new line-array system and digital console front end is outstanding," Vogler concludes. "The overall sound here at the Hollywood Bowl is extremely neutral and phase accurate. Microphone placement and orientation have become extremely critical during symphonic performance, because I can hear phase and delay changes as I pan sources across the soundfield. It's a highly responsive sound system and one that will produce outstanding results."
House Speaker System:
Stereo Mains: 18 L-Acoustics V-DOSC 3-way enclosures and six dV-DOSC 2-way down fill enclosures per side.
Subwoofers: Eight L- Acoustics SB-218 Enclosures per side.
Power Amplification: 32 L- Acoustics LA-48a amplifiers (2900 watt/channel into 2 ohms).
Center Cluster: 17 L- Acoustics dV-DOSC 2 way enclosures.
Center Cluster Power Amplification: 12 L- Acoustics LA-48a amplifiers.
Center Down fill: Four L- Acoustics MTD-112B.
Total Vertical Coverage of Main Array: 42 degrees.
Far-throw distance: 450 feet.
DSP Signal Processing:
Lake Contour Pro 26D Digital Loudspeaker Processors using L- Acoustics Factory Preset Library.
Mixing Consoles:
Front of House: Yamaha PM1D and DM2000 (40 inputs).
Monitor: Yamaha PM1D.
Outboards: Lake Huron Convolution Workstation, Lexicon 480L, 300L, Eventide Orville, 2016, Millennia Media EQ and Compressors, Avalon EQ and compressors.
Facility photographs (c)2004 content-creators.com. All rights reserved



©2023 Media&Marketing. All Rights Reserved. Last revised: February 20, 2023