Facility Profile: The Village Recording
Studios, West Los Angeles
Written by Mel Lambert in May 2004
Celebrating 30 successful years as a state-of-the-art recording and scoring facility, The Village Recording Studios in West Los Angeles is a four-room complex housed within a former 22,000 square foot Masonic Temple. Work in-progress includes an additional pair of scoring and music-recording studios and companion control rooms on an upper floor. Recent clients have included Smashing Pumpkins, Nine Inch Nails, Rebekah, Counting Crows, Robbie Robertson, Rolling Stones, Maxwell, Reverend Horton Heat and Tom Petty and the Heartbreakers. Soundtracks recorded at the facility include "The Man in the Iron Mask," "Good Will Hunting," "Phenomenon," "Con Air" and "Shawshank Redemption," as well as commercials for such clients as Reebok, AT&T, and Jack in the Box In three decades, The Village has become - to quote long-time client, guitarist Jeff "Skunk" Baxter - "an historic studio that's adapted to the demands of modern musical technology, yet without losing its charm and musical heart."
During that time, the studio has re-invented itself several times. Set up in 1968 as the creative vision of musician and technical innovator Geordie Hormel - a composer whose credits include music for a range of TV shows, ranging from "Lassie," "Ozzie & Harriet," "Rin Tin Tin" and "Huckleberry Hound" to "The Untouchables" and "The Fugitive" - by 1972 The Village had become one of LA's top studios, hosting such talents as Steely Dan, Allman Brothers, Joni Mitchell plus the Sly and the Family Stone.
"We consider that the secret to The Village's longevity," says Jeff Greenberg, Chief Executive Officer, "lies in a unique combination of creativity, top-notch client service, and constant technical innovation." Greenberg has a wealth of music-business experience, including concert promotion for The Nederlander Organization, artist management and as an agent at ICM. "We always refer back to Geordie Hormel's original creed," he says, "which was an uncompromising emphasis on Client Services - artists need to be taken care of during this often stress-laden process of making music. Our unswerving philosophy - the 'heart' of The Village, if you like - has always been: 'Whatever it takes.'
"In the control room, the engineer and producer are capturing that Golden Moment during a performance and then relaying it to the public - in that respect, they are also 'Artists,' in the true sense of the word. It is our role to ensure that nothing deflects them from that role, and upsets the creative studio/control room environment. Our 24-hour technical support is second to none."
Throughout the years, Geordie Hormel's attributes have been beneficial to his studio. "He evinces a laissez-faire philosophy," Greenberg concedes, "that has always allowed clients at The Village to feel at home while taking their creativity to the max. 'When someone rents the studio,' Geordie states, 'It's theirs, not mine.' The Village has earned a well-deserved reputation as a place where magic could be committed to tape; as a result our walls are lined with Gold and Platinum records."
Technically, under Geordie Hormel's guidance, the facility was the site for many firsts. The Village opened as one of the first studios equipped for 24-track recording. It was the first studio in L.A. to offer 24-track Dolby capability, and one of the first facilities in the world to commit to digital with the purchase in 1984 of not one but three Sony PCM-3324 DASH-format digital multitracks.

Technical Tour of The Village: Four fully-featured Control Rooms and Recording Areas
The complex currently comprises four studios on the ground and second floors - Studio "A," "B," "D" and "F" - together with necessary support and technical services.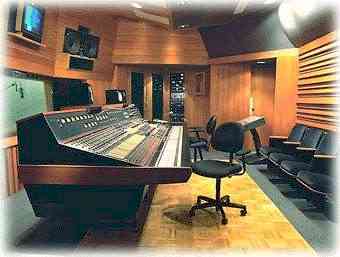 Studio "A" (pictured below) is designed primarily for tracking, mixdown, overdub, and film/video scoring, with a private client lounge. The control room features a rare, vintage 40-input/32-monitor Neve 8048 with Model 1081 and 1072 EQ modules, capable of providing 72-channel mixdown with a four-channel Mix Bus. Automation is handled by 72 channels of Flying Faders. Tape machines located in a separate machine room include Studer A-800, A-827 and Otari MTR-90 24-tracks, Studer A80VU and A80RC half-inch decks, Ampex ATR-102 quarter- and half-inch two-tracks, a Ampex ATR-104 half-inch four-track, Panasonic SV-3700 Pro-DATs, and Sony BVU-800 U-Matic videodecks. Timecode synchronization is handled by an array of TimeLine Lynx modules.
The Neve 80 Series console was originally built for Universal Studios in Chicago, as a 40-channel model. It was later sold to CBS Studios in the Studio City suburb of Los Angeles, and has now been expanded to accommodate 72 fully-featured inputs.
"The 8048 is thought by many industry veterans to be the best sounding console ever produced," Greenberg considers. "Apart for the addition of 72 channels of Flying Faders [moving-fader automation], the board remains unaltered - unlike most other vintage desks - and is primarily Class-A circuitry. It sounds superb!"
Monitors comprise Village/Waterland custom-design cabinets, utilizing JBL and TAD components; nearfields include Yamaha NS-10M, Auratone, Tannoy Gold 12 and Manley Mastering Labs/Tannoy SGM 10 cabinets. Power amplifiers include Boulder 500, Bryston 7-B Monoblock and McIntosh Model 2105s. A comprehensive collection of outboards include UREI 1176LN, LA-2A and LA-4 limiters, Lang PEQ2 equalizers, Roland SDE-3000, TC Electronics TC-2290, Lexicon PCM-70, Lexicon 480XL, AMS 1580-S, AMS RMX-16, Yamaha SPX-90 and REV-7 effects processors.
The recording area boasts a 7-foot Yamaha Grand piano.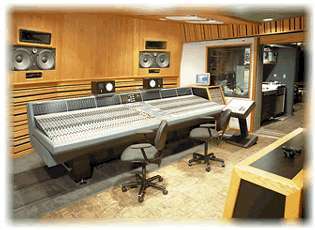 Like "A", Studio "B" (pictured right) also features a private lounge with kitchenette, TV, VCR and rest room. The control room is centered around a 72-channel AMS Neve VRL with full mix recall, and 72 channels of Flying Faders with automated mutes and EQ in/out on each channel, plus insert and A/B cut bus.
Tape machines include Studer A-800, A-827 and Otari MTR-90 24-tracks, Ampex ATR-Series in various track and tape formats, Panasonic SV-3700 Pro-DATs and Sony BVU-800 videodecks. Synchronizers include four TimeLine Lynx modules. Again, monitors comprises Village/Waterland custom cabinets and a range of nearfields, powered by Boulder, Bryston and Mcintosh amps. The outboard rack matches that of "A." The in-studio piano is a 9-foot 1921 Steinway Baby Grand formerly owned by Oscar Peterson.
Studio "D" (pictured below) provides a wide variety of acoustic environments, with two large isolation booths and large main area. Client services include a private lounge with kitchenette, cable TV, VCR and rest rooms. The control room was recently updated with a new AMS Neve VRL/SP-72 console with Flying Faders moving-fader automation, complete with automated EQ in/out and Insert in/out on each channel.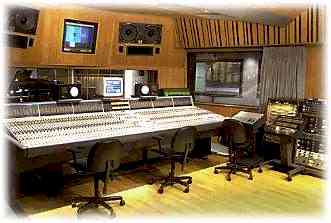 "In an effort to better accommodate our many film and video clients," Greenberg explains, "we installed a Neve [VRL/SP-72] with an eight-bus surround-sound film mix module, and upgraded the monitor section to Neve Legend specs."
Multitracks include Studer A-800, A-827 and Otari MTR-90s. Ampex ATR-Series and Panasonic SV-3700 Pro-DAT serve as mastering decks, with Sony BVU-800 for video playback. Four TimeLine Lynx modules are provided. Again, Village/Waterland custom cabinets and a range of nearfields are offered, powered by Boulder, Bryston and Mcintosh amps, plus a comprehensive outboard rack. A live Echo Chamber is also available. Studio piano is a Yamaha 9.5-foot Concert Grand with Forte MIDI adapter.
Studio "F," located on an upper floor, is intended primarily for recording audio books, voice-overs and MIDI/two-track pre-production. A private lounge with refrigerator and rest room is provided, plus full games room. Control room equipment includes a 32-input/24-bus/24-monitor Trident Series 65 console, linked to an Otari MTR-90 24-track, Ampex ATR Series and Panasonic SV-3500 Pro-DAT mastering decks, plus Sony BVU-5850 U-Matic video playback.
Monitors include JBL Model 4425 mains and Yamaha NS-10M, Auratone, Tannoy Gold 12 and Manley-Mastering Labs/Tannoy SGM 10 nearfields powered by Mcintosh 2105 and BGW Model 250 amps. The well-stocked outboard rack includes Alesis Midiverb 11, Orban 418a stereo limiter, UREI 565 filter, Dynafex DX2 NR, Symetrix Phone Patch, Yamaha SPX-90, dbx 162 Stereo Gate/Expander, TC 2240 EQ/Pre-amp, and Audio & Design Compex II limiter-compressor/expander.
"For us, client accommodation is paramount," Greenberg continues. "From the 1978 renovation of Studio 'D' for Fleetwood Mac's legendary recording of 'Tusk,' to Robbie Robertson's highly acclaimed first solo album, The Village prides itself on offering a wide variety of creative environments." (Robbie Robertson tracked in not only Studio "A" and his on-site private office fitted out as a 16-track studio, but also the facility's cavernous 1920s Masonic auditorium, "which," Greenberg recalls, "provided the warehouse-like environment to suit some of [his] musical moods.)
Hardware shared between the four studio areas includes a Studer A-800 24-track with remote, Otari MTR-90 24-track with remote, Sony DRE-2000, EMT 250 and Yamaha REV 5 digital reverbs, Roland E660 digital EQ , Eventide H3000 UltraHarmonizers, Eventide H949/H 910 Harmonizers , AMS Tape Phase Simulators , AMS Keyboard Chorus Controller, Audio & Design F760 Compex limiter and Vocal Stresser, Fairchild 670 tube limiter, API Model 550A and 550B EQ, BBE Sonic Processors, Dolby DS-424 Theater Sound Encoder, Pultec EQP LA tube equalizers, Dolby 24-channel M Racks and 361 Modules (/SR-type and dbx), Alesis ADATs with BRC, plus TimeLine Lynx KCU controller. A central game room with pool table, video games and virtual reality is available for use by studio clients.
"In addition," Greenberg adds proudly, "we have five vintage EMT 140 Series plate reverbs: three with solid-state electronics and two with tube electronics, which were formerly owned by RCA Studios in New York."
Reflecting on the past decade at The Village, Greenberg recalls that the early Nineties brought hard times to many studios, with overall record-business bookings down, in addition to competition between commercial facilities and project studios. "Although The Village always retained loyal clients," he says, "it became obvious that to stay competitive a fresh approach was needed.
In 1994, Greenberg was brought in as CEO, and he spearheaded a redesign that was undertaken with the assistance of consultant (and six-time Grammy-winning engineer) Al Schmitt, who still retains a production office at the complex. "My challenge was to update The Village and remain on the cutting edge," Greenberg says, "while still retaining the unique qualities that had made the complex a proven hit maker."
The carefully-considered process included re-staffing and redecorating, console upgrades to enable multichannel film-style mixing and scoring in Studios "B" and "D," and the installation of a classic Neve 8048 for "A."

A new project for 2004: the addition of two Scoring Stages
And this year will see the start of an exciting new project for The Village: remodeling of the second floor, and the addition of two scoring stages, possibly equipped with AMS Neve Capricorn all-digital consoles. Architect on the expansion project will be Vincent van Haaff, president of Waterland Group, the firm responsible for design and subsequent upgrades of Studios "A," "B" and "D."
"Working with structural engineers, we have been investigating ways of re-supporting the second floor," Vincent van Haaff explains. "Here, in an area that comprises two large auditoriums [key components of the former Masonic Temple], we plan to lay out a pair of medium-size scoring facilities. We are planning for two control rooms, as well as a self-contained DVD/5.1-channel mixing suite.
"But, because of the building's age [it dates from 1927], we will need to be extremely careful about earthquake safety and a whole host of other parameters. We are going to suspend these new floors off the construction that will be built on the inside of the building without disrupting any of the sessions within the ground-floor areas. We have identified several possible locations where we will effectively jack up the entire upper floors, and suspend the new rooms on isolated pillars driven into new foundations.
"Wide-flange beams will be attached to structural steel columns that will go up three stories to re-support the roof. To be able to literally suspend the entire isolated floor 16 feet in the air, we will need to create another support system on the other side of the roof. It's a major engineering challenge!"
"We feel that the recent upgrades and enhancements have placed The Village in a unique position to transition successfully to another, even more exciting era in the history of this charmed complex," Jeff Greenberg concludes. "It's been an era that has enabled a healthy mix of album, film-scoring and commercial projects to coexist happily in the facility that is still a leader in the business of getting 'Magic onto Tape'."


©2023 Media&Marketing. All Rights Reserved. Last revised: 02/20/2023