Broadcast Profile: KCRW, Santa Monica
A dramatic technical upgrade and acoustic
redesign with Klotz and Dalet digital solutions
Written in January 2004 by Mel Lambert
Throughout the National Public Radio network there is seldom a station that doesn't push the envelope in terms of making the best out of limited resources. Being primarily subscription-based, NPR affiliates needs to rely on an audience for which listener loyalty and commitment count for a lot in these austere days. Nowhere is that ethic more readily articulated than at KCRW, an NPR affiliate owned by Santa Monica College, west of Los Angeles.
For the past 27 years KCRW has remained firmly dedicated to its role of providing high-quality programming to an attentive audience in excess of 450,000 weekly listeners with a varied schedule of news, locally and nationally produced music, public affairs, political analysis and cultural programs; its self-proclaimed format is "Eclectic, Non-commercial."
With its expansive reach of Southern California, and its large operational budget, KCRW is one of the largest and most influential NPR stations in the country. Daily programming comprises approximately 50% music – including in-studio offerings – and 50% current affairs, the latter primarily NPR's "Morning Becomes Eclectic" and "All Things Considered" plus PRI's "Marketplace," in addition to home-grown offerings that include "Which Way LA?" and "To the Point," hosted by Warren Olney.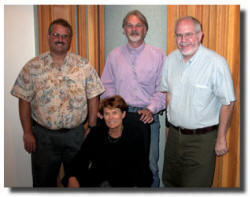 L-to-R: KCRW's Chief Engineer Steve Herbert; General Manager Ruth Seymour (seated); Vincent Van Haaff of Waterland Group; and David Greene, KCRW's Assistant Chief Engineer.
In the station's early days, recalls General Manager Ruth Seymour, who has been with the station for more than 25 years, "KCRW offered a very different program mix from today." Back in the early Eighties, the station was broadcasting a number of drama productions, some in cooperation with BBC Radio, using a pair of performance areas at either end of a basement level that houses the broadcast complex. "But, over the years, we have moved towards a mixture of music – some of it performed live – and magazine-format programming." A lot of the space wasn't being used because it was inappropriate, Seymour stresses, "or lacked the type of equipment we need to use the space in the way we needed." As a result, it was decided two years ago to re-equip the station and renovate a number of production areas to bring them more in line with current program needs. "Our keyword during the project," Seymour recalls, " was flexibility."
In its revised layout, says Chief Engineer Steve Herbert, "KCRW comprises four Broadcast Studios, one On-Air Studio, two Performance Studios, two Interview Studios, two Edit Suits and a Voice-Over Booth." A central Internet streaming area, a main matrix/rack room and sub rack room complete the technical facilities. "Of primacy importance during our recent upgrade was the ability to share studio facilities between different production areas," Herbert stresses. "We often need to change a studio's set up at the last minute – allocate a different interview area, for example – or to provide additional editing areas at a moment's notice."

All-Digital Storage/Replay and Mixing Systems
Having carefully investigated the types of equipment choices being made at other NPR stations, as well as the National Pubic Radio HQ in Washington, the decision was made to install Dalet Digital Media Systems data-storage servers, and to use a Klotz VADIS AudioMedia Platform to handle routing and mixing throughtout the complex. "The assignable VADIS control surfaces in each studio can be easily re-allocated to work with any of the recording areas, which greatly enhances our operational flexibility," Herbert concedes.
Radio Systems provide system integration hardware, under the direction of company president Dan Braverman. Jonathan Burtner served as Klotz Digital's Project Manager. "We elected to purchase four 16-fader, one 12-fader and two eight-fader Klotz DC II mixing consoles," explains David Greene, KCRW's Assistant Chief Engineer. The smaller surfaces are used in dedicated edit bays, and the larger-format systems in on-air and production areas. A bank of 11 VADIS Model 880 and two VADIS Model 220 router frames handle signal routing and distribution. "We were impressed with the flexibility of the VADIS system and its ability to fully route all the resources of our facility within one fully integrated system," Herbert continues. "The VADIS platform fully addresses our wide and varied program and production needs."
To provide time shifting of East Coast-produced programs that are rebroadcast for a West Coast audience, in the past KCRW had used a bank of some 40 remote controlled DAT machines. "The addition of our Dalet systems dramatically streamlines the record and replay process," says Greene. "Now, we can access, view, modify and/or control any of the audio files stored in the central disk arrays from any workstation, limited only by user rights." Data can be stored is linear-PCM, MPEG2 and MPEG 3 compressed formats, in mono or stereo, and at any compression rate.
According to Kenneth Tankel, Dalet's NE Regional Sales Manager, "Our involvement in the project included improving the workflow of program recording done [previously] to some 40 DAT machines, and upgrading the studio systems to handle AES/EBU-format digital audio. And, to provide a high level of redundancy, any workstation can run any Dalet user application on the network." An existing audio server was repurposed as a Dalet NetBack server, "which allows workstations to connect to a backup database and audio files in the unlikely event of an emergency, and for maintenance," Tankel says.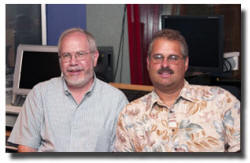 L-to-R: David Greene, KCRW's Assistant Chief Engineer, with Chief Engineer Steve Herbert..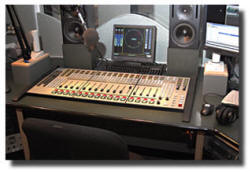 A 16-fader Klotz DC II Digital Mixing Console in the rear of Performance Studio 1, for primary on-air/production duties.
And analog hardware continues to coexist alongside digital technology. "Even though we use the Dalet for timesharing our NPR programming, and rebroadcasting in-house shows," Greene points out, "a lot of music is replayed directly from vinyl, in addition to Compact Disc." Uniquely, the majority of non-linear audio editing at the station is performed on Macintosh-based Digidesign Pro Tools systems, the outputs from which connect to either the Dalet system for storage and broadcast, or to Klotz mixers for direct playout to air or incorporation within recorded programs.
Signal distribution around the revitalized facility is based on a conventional 100BaseT switched network that links the audio, database and Dalet netback servers to the centrally located Klotz VADIS router frames. Radio Systems supplied its Studio Hub Plus wiring system and custom LCD selector panels that interface with the Klotz router, as well as "on-site consultation on a wring approach to interface effectively with the [Klotz hardware]." Herbert explains. "And I chose a Telos 2101 telephone systems from the beginning, as one of the cornerstones of this project." The Telos system and all broadcast furniture were supplied by Harris Corporation. "David Schlegel of Harris provided custom furniture designs," Herbert continues.
"The upgrade project was divided into several stages, with the last stage being competed in late November," Greene advises. "But we also needed to remain on-air. I often liken the process to tearing out your kitchen while you are preparing Thanksgiving Dinner. We had to schedule construction and wiring very carefully."
In terms of acoustic upgrades, KCRW's basement studios were in dire need of some tender care and attention. As studio designer and acoustician Vincent Van Haaff, president to Waterland Group, recalls, "Back in 1993 I was invited to KCRW with a request to fix a sound-isolation problem in the radio-play studios. Apparently, KCRW management was satisfied with the work we did at that time so, when the decision was made to renovate the studios this time around, we were invited early on in the process to ensure that the acoustical and electro technical integration would flow together seamlessly."
Live-music broadcasts from Performance Studio 1 were KCRW's greatest concern, Van Haaff stresses. "A great variety of artists visit KCRW's Santa Monica location for a 45-minute live on-air show, ranging from relatively simple solo vocal/instrumentalists to five-piece bands with a full compliment of amplification. As a result, Waterland had to redesign the Performance Studio while taking into account that exacting multifunctional aspect."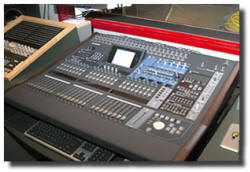 A 24-fader/96-channel Yamaha PM2000 Digital Production Console in Performance Studio 1.
A Yamaha PM2000 Digital Production Console was specified for the larger Performance Studio 1, because of its operator flexibility and built-in features for live in-studio interviews and music performances. Like all digital sources throughput the station, the 96-channel/24-fader PM2000 operates at a sample rate of 44.1 kHz, and links to a 16-channel Digidesign Pro Tools workstation with 002 I/O panel. Performance Studio 3 features a Yamaha DM1000 console.
"Drawing upon our experience in complex installations," the acoustician continues, "where broadcast and live performance need to exist side by side – and with the help of Nicole Dubrow of Six Degrees – we developed a solution. I think we achieved a balance that allows for future expansion of live-recording capabilities in the traditional analog realm, as well as offering a digital control surface interface to the Main Machine Room, a connection that comes directly from the Performance Space and Studio One, including [Digidesign] Pro-Tools recording and editing."
The 22-by-22 foot Performance Area features a 12-foot suspended ceiling, with custom-designed Schroeder sound diffusors on the rear wall to allow in natural light from an upper window, plus two unique sound traps. A corner drum trap incorporates an overheard absorbent area, as well as moveable gobo baffles that can be used to isolate the kit. A smaller area can be used for vocals, again with moveable sound-isolation panels.
"Few college stations – or commercial stations, for that matter – offer the multifunctional capabilities that KCRW has chosen to install," Van Haaff concludes.
Facility photographs ©2023 Mel Lambert/content-creators.com. All rights reserved.