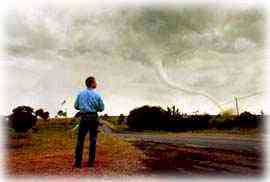 Madness in Oklahoma: Designing
high-energy sound for "Twister,"
with Stephen Hunter Flick and the Re-recording Team at Universal Stage 3
Written in 1996 by Mel Lambert
They just don't come any more action-packed that "Twister." Directed by Dutch-born Jan De Bont, fresh from his action hit, "Speed," the new movie features a screenplay by best-selling novelist Michael Crichton ("Jurassic Park," "Congo" "Disclosure" and the ABC-TV series "ER.") An Amblin Entertainment production, "Twister" was released in the U.S. by Warner Bros., and internationally by Universal Pictures.
Set amid the turbulent, tornado-plagued plains of Oklahoma during a destructive series of storms, "Twister" follows two rival teams of scientists as they chase the largest storm to hit the state in more that 50 years. Each team wants to be the first to launch its own equipment pack into the heart of a twister to transmit valuable scientific data about tornadic behavior; to do so they risk their lives by putting themselves directly in harm's way. The film stars Helen Hunt (from NBC-TV's "Mad About Your") and Bill Paxton ("Apollo 13") as an estranged couple thrown back together for one last chase. Co-stars include Jami Gertz ("The Lost Boys") and Cary Elwes ("The Princess Bride").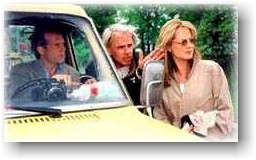 "I wanted to make this movie look as realistic as possible, and to film in the countryside where tornadoes take place," says director Jan De Bon, who also served as director of photography on such action films as "Die Hard," "The Hunt for Red October" and "Lethal Weapon III." "My goal was for the audience to get the feeling of really participating in this movie, of making the same kind of trip- that they are one of those storm chasers out searching for a tornado." Using a combination of live-action, models and computer-generated sequences from Industrial Light & Magic, De Bont- pictured right between "Twister" principals Bill Paxton and Helen Hunt- was able to produce several different types of twisters. "But then we needed to create a 'color' for each of them; some were scary, others magical, and so on."
"Sound is very important to any movie," the director explains. "But, given the nature of what we are trying to achieve in 'Twister'- including retaining a high sense of anticipation from the largely unseen threat that these phenomena can create- we needed to create 'voices' for each of the different types of tornadoes featured in the film. Yet a tornado- which, if you will, is our 'star'- has no voice; I turned to [supervising sound editor] Stephen Flick to create those impressionistic voices, and make them attention grabbing for the audience. At the same time, I wanted [the audience] to be very aware that these high-speed tornadoes have a 'soul,' rather than being inanimate objects. Stephen helped these masses of wind become characters, and active players in my movie."
"While working on location [in Oklahoma],' De Bont continues, "I began to develop a series of ideas for how each of these might sound; when would you hear it, and when would you not hear it? How would it sound from a distance, and how would it sound close up? What would it sound like to be surrounded by a twister? All of these ideas- plus a concept of an 'ambient sound' that would become a background tone for the tornado- I discussed closely with Stephen, and asked him to develop a series of different sound effects.
"We spoke to people that had real-world experience of tornadoes, about the sights and sound they had become a part of, and also viewed documentary and news footage. We wanted to create a 'life' for each individual twister that would let the audience know what it was like to be involved in the power and beauty of such energy. People told us that a tornado sounded like 20 freight trains coming at them; we knew that we had to reproduce a lot of low-frequency rumble in the theater, as well as the power of the wind- which again was described as more like a jet-engine blast.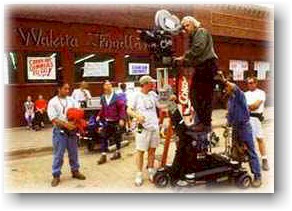 "With all this background information, I knew that coming up with a realistic and convincing soundtrack was going to a major challenge to Stephen's creativity. Sound is becoming more and more important in movies; I even edited the film with sound in mind, by extending scenes to take into account what might need to follow. But Steve is one of the best sound-effects editors that I know; our experience on 'Speed' convinced me of that, as well as his work with Paul Verhoeven on 'Robocop' and 'Total Recall.'
"We used the trailer [produced during the Fall of 1995 in, unusually, six-track DTS/SR*D [now Dolby Digital] formats plus eight-track SDDS] to introduce the character of the tornado to movie audiences; to let them know that the real power was inside the Twister. We wanted the audience to imagine what it would be like to hear the sound from up close, and have it pass over your head. Stephen was very involved in preparing those trailers, and making sure that we had great sound effects.
"We convinced Rob Freeman, head of distribution at Warner Bros., that we needed a powerful, discrete mix for the trailers. We needed to sell the movie ahead of time- there are a number of important films being released in May, and we wanted to make sure that movie audiences, through a series of sound-heavy trailers, were fully informed about 'Twister'!"
De Bont had worked previously with Flick on "Speed," for which the sound team won a much coveted Oscar in 1994 for Best Sound Editing, plus a British Academy Award and Golden Reel Award. (Flick also won an Oscar for his work in "Robocop," and has received Academy Award nominations for "Total Recall," "Die Hard," and "Poltergeist.")
All-Digital Sound Production
An original founder, with Mark Mangini and Richard Anderson, of Weddington Productions, Flick recently set up a new base for his sound-design, editing and related talents in Glendale, CA. Known as Creative Cafe, the new editorial shop features a wide range of sound-design and digital editing workstations, including 20 Digidesign Pro Tools systems. Some of the Pro Tools workstations feature QuickTime digital picture, and are used with a variety of sound-processing software and hardware. "The majority of our Pro Tools [V3.2] provide a total of 16 voices, mixed out to eight channels," Flick says. "A few systems offer less voices, which makes them perfect for use by assistant editors, and as inloading stations.
"We also have a total of four [Avid] AudioVision digital audio workstations, all with [data-compressed] digital picture. We recently acquired and are currently installing an Avid Media Share network system, which will allow us to simultaneously use over 200 GByte of sound files between several systems." One advantages of using Avid and Digidesign systems, Flick stresses, is that they can share a common file format, which means that material can be transferred easily from one platform to another.
According to Flick, who served as supervising sound editor on "Twister," all of the audio materials used in the film, aside from original production recordings, were recorded and edited digitally. "All the sound effects were edited on our Pro Tools systems, while Foley materials were cut on [Avid] AudioVision. We recorded 50% of the Foley to [Tascam] DA-88 [modular digital multitrack], and the remainder with a Fairlight MFX-3. Mark Mancina's score was edited by Zig Gron at Media Ventures [Venice, CA] on Pro Tools." Mancina also wrote the score for "Speed."
"For the predubs we took three transportable Pro Tools onto the stage [Universal #3, Universal City] for playback of edited dialog, effects and music tracks, plus a spare Pro Tools system. We premixed everything to six tracks, with and without booms. The advantage of working with digital workstations is that you can perform multiple edits on the material with complete freedom to undo any edits that you might need to change or modify- that's something you cannot do so easily with [35 mm] mag dubbers. Also, we can lay up multichannel source material, and pick what we need during the predubs.
"In fact, we tried to work all the way through this project in terms of six-track elements; that only became possible because of the time we had available to us- I began work back in March, 1995 - and a generous sound-effects budget."
To capture a variety of wind sounds, Flick contracted field recordist Ken Johnson to design and build a special device, christened "The Professor Marvel Incredible Wind Machine," that could be mounted in the bed of a pickup truck. Comprising a sturdy frame lined with foam and carpet padding to deaden the truck vibrations, various sound-making slats, wires and other devices could be added to produce different noises as they were pulled through the air. Johnson used a pair of crossed X-Y Schoeps CMC4 microphones with windsocks.
Then, while driving the this mobile "Aeolian Harp" around various locations throughout the Mojave Desert, north-east of Los Angeles, the field recordist could capture different sounds as the breeze made a variety of fishing lines, wires and other filaments create exotic wind "whirs." Jars, bottles and similar open containers mounted at various heights above the box frame were also used to create resonant sounds, plus slats and arms that could be extended to either side of the pickup body to produce whirring sounds. (Just in case you missed the arcane reference, "Professor Marvel" was the kindly traveling wizard who became The Wizard of Oz; recall also that Dorothy and Toto were transported from Kansas aboard a tornado in the classic movie. So it goes.)
Utilizing these live sound effects as a basis, sound designer John Pospisil began to process the sound of various tornadoes featured in the film. "There are several stages prior to the arrival of a twister," Pospisil elaborates. "First, the air grows unnaturally still; nothing moves. Then, the deafening roar of a freight train fills the silence. And, finally, a swirling, spiraling wall of wind descends from the skies, tearing through everything in its path." A tornado, after all is one of nature's most deadly phenomena- its has the power to drive an unbroken straw through the width of an oak tree, or lay waste an entire town in seconds; they remain mysterious and capricious killers.
"We wanted to re-create the sound of a tornado as it passes you- yet without risking capturing it on a DAT and some high-quality mics," Flick continues. "I worked out that the sound of a tornado is made up of several elements. First, we have the natural, low-frequency rumble. Just like a pulsing freight train, we experience a lot of LF information, followed by high-end steam pulses, followed by a fast passby and then silence after the thing moves off. One of our editors had actually been in a tornado, which he describes as being first quiet and then incredibly loud.
"So we began looking for effects that would contribute to the sound of our tornadoes- there are several different twisters in the film, all of which have a different characteristic and sound signature, building to the film's climax. Martin Lopez and his crew of field recordists, including Charles Maynes, made a number of audiophile recordings for me of freight trains, passby effects and other effects I would need for the movie. Last summer, Ken Johnson and Eric Potter spent several weeks recording wind effects here [in LA] and in Texas, as well as gathering more train effects.
"Many of these sounds, including a series of ambiance recordings, were made using multi-mike arrays, so that we could prepare three-dimensional images for the soundtrack. From our discrete recording [made to Alesis ADAT and DA-88s] and sound design, we were able to produce edited six-track masters for the soundtrack; I wanted to provide left-to-right information, as well as back-to-front, so that the sound could be placed anywhere in the auditorium. We were also able to re-create a sense of height- that the wind was above the audience- by using matrixed effects and digital reverb.
"I kept returning to the question: 'What does a tornado really sound like?' Or, more to then point, how should I make it sound to convince the audience that this is major threat; to provide a sense of power within the movie theater. I concluded that the sound of a tornado is made up of three primary elements: We combined the sound of wind moving very fast, with objects being moved rapidly, and a voice panning across the surface of the wind- the combination is almost human in its characterization, and can be varied by altering the speed and force of the wind velocity. We also added sounds we created on the Foley Stage, and totally synthetic sounds. These, in combination with surround-sound information, produced what I consider to be a very realistic effect on the dubbing stage, and one that will totally convince the audience that they are experiencing the real thing."

Re-recording at Universal Stage #3
For the dubbing of "Twister," the sound crew moved to Universal #3, which features an 120-input Otari Premier board with DiskMix VCA/moving-fader automation. Because of the large number of sound elements involved during the predubs and re-recording session, a sidecar Otari Concept 1 board was added to the right-hand side of the main three-man Premier console, and used to handle additional effects elements. Lead mixer/dialog for the dub was Steve Maslow, with Gregg Landaker handling effects, and Kevin O' Connell supervising music tracks, as well as a small overflow of effects elements.
Maslow and Landaker have worked together at Universal for many years, on such landmark films as "Waterworld" (a 1995 Oscar Nominee), "Speed" (Oscar Nominee in 1994), and "JFK." (During their previous experience at Skywalker Sound and Warner-Hollywood, the duo worked together on "Top Gun," "Empire Strikes Back," "Raiders of the Lost Ark" and many other movies.) O' Connell normally works at Sony Pictures Studios, Culver City, but has seen action with the duo on such films as "Unlawful Entry" and "Beetlejuice."
According to Steve Maslow, director Jan De Bont wanted "Twister" to sound big! "This was an effects-driven movie that opens with a big tornado. It's actually a flash-back for a little girl that experiences the most horrific thing she's ever seen; then you dissolve into the future and the girl [Helen Hunt] has become a storm chaser. But you don't really see [the tornado] because it's a night shot; instead, it's the presence, the sound, the destruction going on all around them.
"They came to the pre-dub with hundreds and hundreds of raw elements- winds, debris, every imaginable kind of sound that Steve [Flick] could think to create. We worked mostly with stereo tracks that we placed and swirled around the room for the six-tracks discrete mix that we then poured [during print mastering] into DTS, SR*D [now Dolby Digital] and SDDS, as well as the [LtRt optical] Dolby Stereo mix."
The final dub was to six-track 35 mm mag. "We like the 'feel' of the sprockets," Maslow confides. "We didn't prepare extra tracks for the left-inner and right-inner channels on [the 8-channel] SDDS mix; we just bleed some information [from the left, center and right tracks] into the inner pair."
Maslow recalls that the pre-dubbing process was particularly complex because of the large number of sound elements. "Steve Flick provided us with maybe 300-400 tracks for a tornado reel [on DA-88 and Pro Tools], and gives us his general idea of what he would like us to do with them. Then all three of us went to work with the material." Music was supplied on a 16-channel Pro Tools system, predubbed to 35 mm mag.
"We didn't want to have everything playing at once, so we were diving in and out of different tracks", Maslow continues. "As the Twister got closer we would get the wind in the high-end, then get the low-end going and try to drive the tornado close to us. We would try to put specifics into the swirling effects and 'raspiness,' because if you have 400-odd tracks playing all at one time it would sound like a big mess; we tried to give some 'definition' to the sound. For me, pre-dubbing is like editing; you only want to retain the sounds you know you're going to need for the dub.
For some of the pre-mixes, the film was still lacking opticals from ILM. "Jan [De Bont] would stand close to the screen with a flashlight," Kevin O' Connell remember, "and tell us where the tornado was and how it might move. We made mental notes of his movements so we could have those elements ready. Ninety percent of the time we hit them on the button; once in a while we didn't, and just fixed it on the final."
During the final dubbing sequence, Maslow and his team had as many as 200 sound elements running through the main and sidecar consoles. "Greg had about 110 on the main and outboard effects boards. Kevin had about 30 [music tracks], and I had about 30 or so [of dialog]. We probably started with close to 800 elements during the predubs."
In terms of using sound to create a mood to reinforce what's happening on the screen, Maslow says that he considered a variety of techniques. "There are a couple of scenes in the movie where a tornado is coming and we're just getting licks of wind wisps, and maybe a little growl here and there. All of sudden all the people are looking around the screen because they know something's coming, and then we hit them with it."
In terms of discrete-versus-matrix mixes, Maslow offers that six separate tracks enable him to more accurately define the direction of each sound. Also separate left and right surrounds enable the sound to move more freely within the auditorium. "This movie definitely lends itself to a discrete format. A lot of times the surrounds become a little intrusive. But when you're into this massive tornado the SPL is up there; you feel like you're in the middle of this incredible monster. Surrounds can be overused. Hopefully, we used them to the right degree in this movie, because when you're in the vortex of this tornado you've got to have every speaker in the place going.
"We treat everything with reverb and ambiance when we pre-dub it; sometimes if it's not treated enough we might hit it again." The mixing crew had access to three Lexicon 480 XL digital effects systems, which were "very flexible, quick and easy to work with."
"But Steve Flick is a genius for bringing to the stage pre-treated tracks with 90% of the effects done for us; he brings us what he feels will work," O' Connell says. "He may have a 'dry' [unprocessed] version and a 'wet' version so that we can mix between the two- when you're dealing with 400 tracks, for us to treat every single track would be very time consuming."
"There's something a little different about 'Twister'," Maslow confides. "Jan designed this movie around the score and the effects, so that they will not fight each other. By leaving spaces in the frequency spectrum, we have room to add sounds without swamping the level. An example: We're coming up on a tornado, and as soon as it is upon us, the music dies down and goes away completely. As soon as we get into the crux of this tornado, it's all effects.
"Because [composer] Mark Mancina and Steve [Flick] collaborated on editing the score with the sound effects, it all bends together seemlessly. Mark wrote the score without diving into this mid-frequency range [where] the effects were going to be- that's one of the best designs about 'Twister.' For practically every chase I've seen- from 'Raiders of the Lost Ark' to 'Top Gun' to 'Crimson Tide' to 'Waterworld'- music is always fighting the effects; in this movie they compliment one other."
In terms of dialog balance versus music and effects, Maslow says, "Basically, we just set the dialog at a comfortable level and worked everything else around it. Obviously, as the action ebbs and flows, some pieces of dialog are lost and we'll go up and re-tweak them."
"Steve picked the level of dialog," Kevin O' Connell recalls, "and so Greg and I mixed the effects and all music around it, so that the overall sound level of the movie doesn't become offensive."
According to Steve Maslow, "The effects elements came in on DA-88, which is a choice that Steve Flick made because it's very flexible. But, for us, it's very time consuming, because we like to mix as we are backing up as much as we mix forward. [Video-based DA-88s, unlike 35 mm mag, do not replay audio in rewind mode.] We have maybe 20 DA-88 machines in the [machine room and other areas.] But when you've got so many tracks going at once, all of the DA-88s don't lock up [to timecode] at the same time. So you're waiting for those missing eight or 16 tracks. We drive the whole system from a [TimeLine] Lynx generator.
"We predubbed the film down to probably 20, six-track 35 mm mag reels of effects so that we could have individual control during the mix. We didn't want to tie ourselves into just this big huge tornado sound, for example, but wanted the flexibility of being able to add some high-end and mid range; some low-end and screams and growls; some tearing sounds, whatever. By keeping them all separate we were able to bend and fold it around the dialog."
In terms of maintaining a consistency of sound throughout the movie, Maslow says that they spent a week doing a temp dub with the De Bont. "Jan gave us input on exactly how he wanted everything to sound, which we used going into the pre-dubbing stages and finals.
"There are several different tornadoes in this movie. Our goal is to give the audience a different experience with each tornado- we don't want them to sound all the same. Some of them are going to start with rumble and shaking the room; some of them are going to start with howling wind; some of them are just going to start with screaming, tearing sounds.
"Jan and Steve [Flick] collaborated on those details before they would come to us. Since the final mix was all going to be in our hands, they shared with us what they wanted to do. Then we'd interpret what they said and try to deliver it on the screen."
"I think that the best part about this movie is that we're trying to provide [the audience] with the feeling that a tornado has come upon them, and they are now experiencing what it is like to have tractors and semi's and houses and everything dropping in on them. And animals blowing around about their head. From interviews we saw on TV of people that had been in real tornadoes, the movie is a pretty good representation of how a real tornado sounds and the effect it can have on you."
According to effects-mixer Gregg Landaker, "Each tornado is different in having its own character; there's two that you don't see, and three that you do see. The last portion of the movie deals with at 'F5' tornado [on the F-Scale or Fujita-Pearson Tornado Intensity Scale, with 300-plus mph winds]- The Finger of God; it takes out anything in its path.
"To capture the energy force of that coming out of a speaker system was one of our more difficult tasks. We have the sound of hundreds of freight trains going by at the same time, but we need to hear dialog! To pick out detail is a very tough process. The art is to choose the right moments where you can take this mass of energy down a little bit for the other layers to come through. It's a difficult task because, unlike other movies, this energy force goes on for a long period of time, unlike a gun shot, car crash or a train wreck that happens and then it's over.
"And we needed to take the sound of a tractor hitting the ground, and flying past us in the speaker system. Even though the audience is seeing a two-dimensional image in the screen, we're trying to create a three-dimensional sound coming through the room.
"On one scene, we had a high shot of a truck going through a ditch. You don't see the tornado but you hear it coming. The actors are saying: 'We've got to get out of here.' We put this very animalistic growl in the surround speakers that gives you a chill. So, when the tornado does reveal itself, there's another growl and it explodes a barn as they're trying to get away from it."
"Yet the audience has no idea of what's coming," Landaker considers. "I can either scare them, or shy them away from the screen; you are manipulating your audience as much as the director manipulates the story. That's the art of a film mix; knowing when to make the audience feel like they're part of this event, and when to back off and let them listen to the story and get into the characters.
"There's a comedy portion and a love story in 'Twister.' And, like 'Speed,' there's a happy ending to it all. So the audience will walk away going: 'Unbelievable, that was great!' with a heartfelt story at the end of it."
"Twister" Post Sound Crew
Supervising Sound Editor Stephen Hunter Flick.

Re-Recording Engineers Steve Maslow, Gregg Landaker and Kevin O' Connell.

Sound FX Editors Warren Hamilton Jr., Gregory Hedgepath, Richard King, Charles Ewing Smith, Marvin Walowitz and Teresa Eckton.

ADR Supervisor Judee Flick.

ADR Editors Beth Bergeron and Nicholas Korda.

Dialogue Editors Rick Freeman, Stephanie Flack and Ben Wilkins.

Foley Editors Solange S. Schwalbe, Charles Maynes and David Spense.

First Assistant Sound Editor Linda Yeaney

Sound Assistants Catherine Calleson, Baylis Glascock, Jeff Etcher, Don Likovitch and Chris Smith.

Foley Artists John Roesch and Hilda Hodges.

Foley Mixer Mary Jo Lang.

Foley Recordist Carolyn Tapp.

ADR Mixer Bob Deschaine.

ADR Recordist Tami Treadwell.

Special Sound Design John Pospisil

Field Recording Ken J. Johnson, Eric Potter, Charles Maynes and Martin Lopez.

Recording Assistant Mollie Gordon.

Sound Transfer Matthew Beville and Eddie Bydalek.

Stage Recordist Brion Picassi, Brad Biggart and Kevin Brooks.
All photographs courtesy of Warner Bros/Universal Pictures.


©2023 Media&Marketing. All Rights Reserved. Last revised: 02/20/2023